"I'm sending you my roll"
Worker photocards in the first quarter of the 20th century
The workers' photocard appeared early in the twentieth century. Taken inside factories or as workers were leaving, in modest establishments or on small building sites, commissioned by the employer or produced on the initiative of a photographer, these images were a milestone in the history of photographic representation. Thanks to this new vehicle, received as a gift or bought for next to nothing, men and women workers were able to appropriate their image and circulate it among their family and friends. They could actually possess their portrait as a worker and do as they liked with it. This appropriation profoundly affected their relationship with their own image. Here the photo card is considered in its entirety: in terms of both its reproduced image and of the indications provided by the object itself.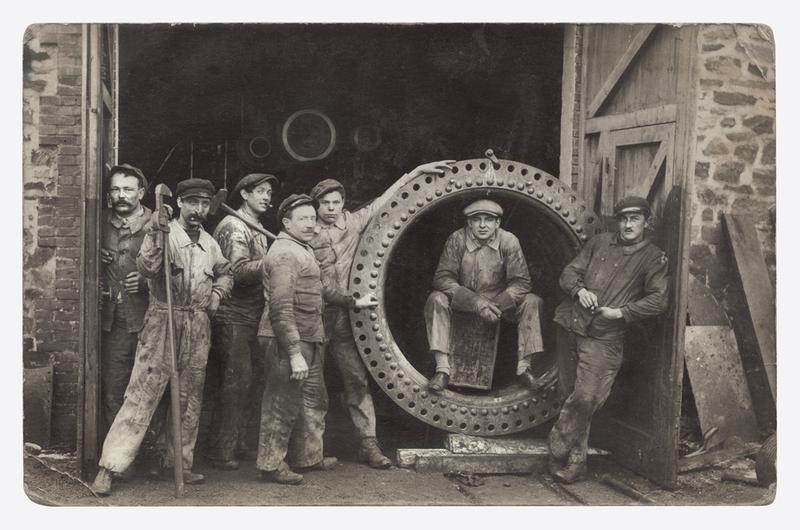 Céline Assegond completed a PhD in the History of Photography at the École du Louvre, with a dissertation titled Photographing Work. Building sites, factories and mines (1850–1915). An analysis of the modalities of representation. Her supervisor was Michel Frizot (2012). She has published several articles on this subject. Currently a research engineer at the University of Tours, she is pursuing a socio-historical line of research on the memory of labour as seen through the history of representation.
Keywords: photographic postcard, photocard, popular culture, worker, group portrait, self-representation, France
Citation: Céline Assegond, « ‹ Je t'envoie ma bobine ›. Cartes-photos d'ouvriers dans le premier quart du XXe siècle », Transbordeur. Photographie histoire société, no. 4, 2020, pp. 16-25.